I started a Tech newsletter
Why nybles? Why not any other name
Nybles or Nibble is a unit of information. 4 bits or 0.5 byte is a Nibble or a Nyble. Well we couldnt get the Nibble domain so we went with the other one.
A Nyble is half a byte
Why a tech newsletter? Why not a general college newletter?
IIIT Allahabad is a small college,information is can travel quickly via word of mouth over here.
On the other hand,I felt the gap between the industry or research is growing wider and wider. What i read on the internet or herd from people who are not in this College,often is an alien language to people here.
So we can say it is a "Translater", for the Klingon the Industry speaks.
On 12 August 2017, Nybles released Version 1.0.

Nybles is now recognised as an International Tech Newsletter by the Indian Institute of Information Technology, Allahabad.
Our Journey so far
We started with beta edition of website .
View Old website Code on Github
The website was based on Jekyll. Adding an article was tedious since it required one to send a Pull request. Even though the team developed an editor to make it with ease people still found it hard.
== Closing in on Quantum Computing
12 Mar 2017
By Elaine Mary Rose - 7 min read ==
Was the first article to be published on the beta version.
During revamp we are only taking the top 5 articles based on Google Analytics to the new platform.
So after 5 months on the same date we are releasing version 1.0.
We are making some changes during this auspicious time
New website :
The new website will be served on Ghost.org .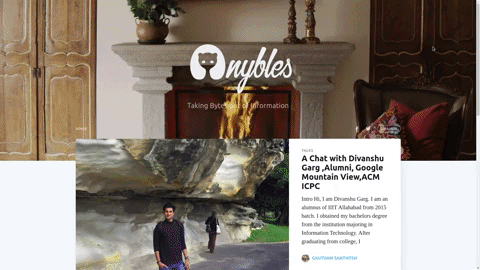 Why Ghost?
We wanted
Amazing admin panel
Quick integration with API's such as slack,facebook comments etc.
Markdown
You can checkout its cool other features at Ghost.org
We were using Jekyll till now, but sending pr for articles takes too much effort and learning curve for every new writer was high.
Our development goal is new develop new theme for Ghost which will suit our needs.
Chatbot :
We also developed a chat bot which you can talk to via our facebook page
Articles
We plan to release an article within three days
We would send a newsletter to everyone subscribed in every 15 or 30 days.
Future Plans
Mobile App to be developed using react native, Probable date of release October 2017.
Better integration of WebApp and Chatbot.
I'll be stepping down from the position of Editor in Cheif from this edition. As the team is amazing now and Nybles is now live. Now ill search for another problem to solve and find my place in the Universe.
Visit Nyble at nybles.tech
Team